Year 5
Welcome to Year 5 at Eastburn School.
As we begin a further week at home, let's remember that we are a team - as a class, as a school, as a community. I hope you also have time this week to be with your families and get 'eggcited' about Easter. I have created a padlet page which hopefully will allow us all in year 5 to post ideas for Easter.
Below are some activities that you should aim to complete each week while at home:
English
Use the government website to help you learn the spellings for the year 5 curriculum.
These can be found in Appendix 1 in the English curriculum. Read at least 3-5 times this week. Log it in your school planner. Handwriting should always be a focus - rewrite an extract from a book or practise spellings and handwriting at the same time.
If you have your log-on for IDL, don't forget to do this 3 times a week please - as a minimum.
Maths
Try every day (Monday-Friday) to revisit some of your number skills (mentally or in writing). This could include times tables, squared/cubed numbers, number bonds, doubling or near-doubling numbers. Keep visiting Sumdog - there are challenges and quizzes this week for addition/subtraction, fractions and decimals, as well as times tables. Who will top the table this week?
Sumdog National Contest begins at 8am on Friday 3rd April to 8pm Thursday 9th April. We need at least 10 children in each class to take part to qualify. You will be playing against different schools and classes from around the country. Let's get onto the top 10 leader board again- you can do it! We have a number of regular Sumdog students - let's see how we get on!
Let's go for it! We still don't have 10 children playing yet, which means we don't qualify. We have until Thursday 9th at 8pm - let's see if we can get onto the podium and win prizes.
PE
There are lots of apps/YouTubers to pick from, or you could go with Go Noodle here. Try to do some exercise before settling down to learning. Don't forget, you can go outside for exercise too - so make the most of this when you can.
Topic - science quiz this coming week.
The Alps quiz - Results: Runner-up = Jayden. Third place goes to Ellis, second place goes to Liverpoolorca and first place goes to FINWAY. Well done for playing! Watch this space for another quiz on Friday.

Please find below some recommended activities to complete with your child at home.
Week Beginning 06.04.20.

Spelling

New lists available for the Summer term: A, B, C and D. Use Sumdog this week to start work on these and to revisit spellings from earlier years. We'll have quizzes on these on Thursday/Friday - see how you get on.

Task 1

Most of the words end in -tial or -cial. Look at the spelling list, can you work out what the rule is to help you with the spelling.


Task 2

Put the words into sentences. For example: When we are older, we will look back at these strange times and call them special... perhaps.


List C & D. Use Sumdog to help you practise these. Write the words into sentences.




Reading

Task 1

As you read this week, choose 1 of 2 activities:

1) Visit the Oxford Owl website, go to home learning and complete an activity for reading, or pick an eBook to read and enjoy.

2) Or, think about writing a book review to share with others when we get back together.

Book review template to print or copy (see below)

Reading and comprehension.

Complete the activity on the fact/fiction sheet below.


Writing

We continue with adventure stories.

Task 1

Over the Easter break, read the eBook from Oxford Owl called 'Time Runs Out' (website includes eBooks for home reading).

Task 2

Read the planning notes inserted below.

Plan an adventure story. Start by:

Creating a setting. Select a setting that you are familiar with, or that you can imagine. What details can you plan? Season, weather, buildings/location.
Plan 3 main characters. Think about their personalities and appearances.
Think of an event that sparks off the adventure. Does something go wrong? Does something appear? Does something/someone go missing? You might want to use ladder or chain planning here.
Create a sequence of events that follow. Focus on how one event leads to the other (it should be logical). You can then add how the characters react in each event.
I would recommend that you do not write in the first person but use the third person (he/she) so that it does not read as a diary.

You might want to use the planning sheets from the Oxford Owl website to help.

Maths

We should now be able to link decimals and fractions, the place value charts can help us with this. This is 3 hundredths. We could write this as a decimal 0.03 (Note there are no tenths, so there is a place value holder in the tenths column).

Look at the bead string below. Again, the digits are 0 0 and 3. How would you write this?

So, if you compare the two answers, we have 0.03 and 0.30. When we write with just tenths we do not need to add the last zero, so it is in fact 0.3.

Draw the place value counters needed for:

a) 0.6 b) 0. 8 c) 0.04 d) 0.09 e) 0.14

Challenge:

Draw the part whole models for:

f) 0.36 g) 1.1 h) 1.28

Maths

Try these first, then try making some questions for a parent to solve (you need to know the answers too though!)

1) Complete the part-whole model twice - once with the decimal required, once with the fraction required.




2)

Think of 3 different ways to complete each part whole model.

Challenge: Which is the odd one out?

Maths

Look at the model below. It shows equivalent decimals and fractions.


Now look at the next three models. Write the equivalent decimals and fractions for each one.

Look at the decimals on the number line below. Write the decimal and fraction for each one.

Now take a look at a ruler or a measuring tape. Pick 3 different points on the ruler. Write them as decimals and fractions.

Topic Work - Science

The science curriculum suggests that we observe our environment during the year. Spring is a great time to do this as many plants and animals are coming out of winter hibernation. On top of that, we have a real mix of weather in the UK that changes daily or even hourly!

How best to record observations and changes…?

A good start is to use a camera/mobile phone to take photos. Focus on one area of your garden or an outside area where you expect plants to grow. Take photos a week apart for a month – record the changes that you observe when you compare photos. Setting this out in a table (in Word) might be one way of presenting your data.

If you are trying to grow anything (flowers/vegetables/fruit) in your garden, you can also get measuring as well as take photos. Once you have a seedling or shoot, start measuring on a weekly basis. Again, you could record height/width in a table. (Using Excel is good here, if you intend to add up or manipulate numbers).

Weather station project.

Record rainfall. Use a container to collect water. To be accurate try to empty the container at the same time – on a daily basis. Pour any liquid collected into a measuring jug/measuring spoon and record the quantity of water collected.
Make a wind vane (you may need a parent to help you – try this video) and at the same time each day record whether there is wind and which direction it is blowing in.
Record temperatures on a daily basis. Remember, to avoid introducing new variables, try to do it at the same time each day, and place your thermometer in the same place each time – ideally in full sun. Again, a table would be best for this. You might want to include observations on whether the day is cloudy/overcast/sunny etc. You will need to place your thermometer in the same place each time – ideally in full sun. (Which will you use? Word or Excel?)

Linking to our astronomy, you might want to make a sun stick and record your findings. This website is a good place to start for this. This will enable you to record how the movement of the Earth around the Sun affects light and shadow.

History Week 1

We have looked at the arguments that led to the civil war and the events that led to the death of King James. For our last week, let's look at how this affected areas of the country.

Look at the map – you can see that the major battles listed cover a lot of England. Closest to us was the battle of Adwalton Moor in 1643. Here, the Duke of Newcastle commanded 10,000 Royalists troops against 4,000 parliamentarian troops.

In defence of the town, Lord Fairfax advanced with 3,500 men and the two armies met on Adwalton Moor, near Bradford. The overwhelming number of Royalist pikemen eventually forced the Parliamentarians back and when their lines broke, the Royalist cavalry (soldiers on horseback) completed the victory. This success ensured that the Royalists maintained their hold in the North for this period.

Task 1

To find more battles in the English Civil War visit the interactive map on the History Magazine website: https://www.historic-uk.com/HistoryMagazine/DestinationsUK/BattlefieldSites/

Research two more battles of the English Civil war. Pick one battle and write a news article reporting on the events – including who lost and what happened.

EASTER is coming - watch this space for Easter activities.

Kahoot it!

On Friday morning I will add the questions to the webpage. At 2.15 I will release the Kahoot quiz pin number. You can then log on and play together at 2.30.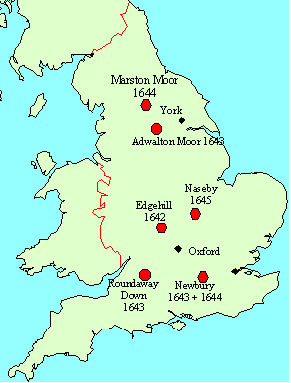 Home-Learning Survey
Please click on the link below and sign-in using your child's log-in details to complete our quick survey. We will use this information to further improve the activities on the website and to help us understand what help your family may need.